Does Driver Shaft Length Matter?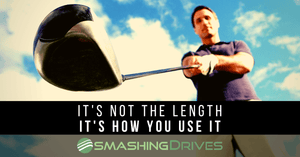 Find out how driver shaft length matters to all golfers - plane changers as well as consistent swingers.
The driver shaft length constitutes a part of the specifications that a driver is built to. 
This matters, especially if like over 90% of golfers, you don't stay on plane all the time.
If you're struggling with striking the ball consistently in the centre of the club face, you might benefit from a shorter driver shaft. 
Taking a bit off the driver shaft length has to be balanced with the build of the driver as efficient build from a swing weight standpoint is still required. 
Without a doubt, having a suitable driver shaft length will certainly benefit and improve our ball striking abilities.
On the other hand, if you're one of the 10% of golfers who manages to hit from the middle of the club face almost all the time i.e. the very consistent swinger, giving him more driver shaft length starting with half an inch and up to a certain point, would actually give more driver speed.
Having an appropriately shorter driver shaft also helps build a more confident swing, as it is easier to control and less unwieldily.  This confidence translates to being able to hit the centre of face more consistently and hitting it straighter.
"Appropriately shorter" are the two operative words as it's a balancing game when it comes to determining the right driver shaft length for increased impact efficiency, before the law of diminishing returns kicks in, so that you have a driver which not only strikes the sweet spot better, but also generates sufficient ball speed and distance.
When it comes to clubs, look beyond the standard specifications as the reality is that it is not going to help the golfer be a better driver or make the fairways.  A driver shaft which is appropriately shorter than standard produces tighter shot dispersion with minimal, if any at all, loss of distance.  In fact, it is important to get the correct driver shaft length as the wrong one can equate to lost distance, dispersion and poor impact.
So do use the appropriate driver shaft length suited for you to keep the ball in play more.  Do remember that ultimately, driver shaft length is just one factor which affects the driver performance and if you need help to prioritise your areas of performance, we're here to do so.
Our Master Fitter has fitted thousands of high handicap golfers around the world, including me :)  On the other hand, he has also fitted the best golfers in the world, such as Phil Mickelson and Vijay Singh!