Appointment System Starting Jan 2022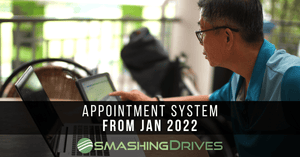 To reduce waiting time for our customers, we will be introducing an appointment system from the start of 2022.  Learn more. 
We're incredibly grateful to all of you, our dear customers, and so we constantly strive to improve our service to you.
And recently, we've gotten really busy.  Post COVID opening up means many more people getting back into the game and wanting to get new clubs, or their existing clubs adjusted.
This has resulted in longer waiting times than usual.
In order for us to continue to provide the same quality of work that you're accustomed to from us, from 1 Jan 2022, we'll be instituting an appointment based system to minimize waiting time.
If you book an appointment using our appointment booking system, you will be attended to on time.
Please show up on time, otherwise we will need to attend to those who are here at their appointment times first.
You can still choose to walk in without an appointment, and we will attend to you at our next availability.  However, if we have many appointments ahead of the time you walk in, that wait could be awhile, so we encourage you to book an appointment.
There will be 4 types of appointments you can book with us. 
15 Minute Club Demo
This will be the same as the existing 15 minute club demo where you can try the clubs out at the range or in our simulator.
15 Minute Drop Off 
If you would like repairs, adjustments, modifications, book an appointment here.  During the 15 minute drop off, we will discuss your ideal outcome and advise you of the cost, and when you can expect your clubs to be ready.
30 Minute Small Jobs
This will be for certain small jobs that we can complete within 30 minutes, and we will work on your clubs while you wait.  Small jobs are:
Grip change – up to 5 grips
Reshafting 1 club (This does not include swapping shafts, heads, which will be considered Reshafting 2 clubs)
Bending loft or lie for 2 clubs (other than putter)
Bending 1 putter
These are subject to change, and we will update the booking page so you know before you book if we are able to work on your clubs on the spot. 
Please note that on the spot small jobs will have a surcharge, and cost more than if you were to just drop off your clubs.  Again, we will update the surcharges on the booking page.
1 Hour Fitting. 
No changes here.  Booking will still be Whatsapp so that we fully understand your fitting requirements to make the most of your fitting.
You will still be able to walk in as usual for the rest of December for us to work on your clubs.
👉 Click here to book your Club Demo, Drop Off, of Small Jobs Appointment
👉 Click here to book your fitting session with All Bonuses (includes 1 hour, $125 fitting fee waived upon purchase of any club, and Free 3 Session 12 month Smashing Fits Guarantee) (This link is to our Whatsapp, we will get back to you within a day.)