How To Choose Your Perfect Shaft Flex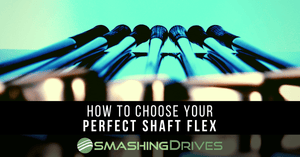 Shaft flex can add distance or accuracy. True or false? Learn more about where shaft flex makes a difference (it's not where you think!), and how to pick your perfect flex.
Shaft flex.  That's one of the most important choices a golfer needs to make when choosing clubs.  
Picking the right flex can drastically change the results you might get, but not necessarily in the way you think.
Generally there are several flex ratings used in the golf industry.  I hesitate to call them standards because they are far from any standard - I've personally seen a R flex play like a A flex, and even an S flex play softer than some Rs!
The 5 shaft flex/stiffness ratings are:
Extra stiff (X), typically reserved for long hitters with about 300 yards off the tee;
Stiff (S), usually for those whose carry distance is 250 or more yards off the tee;
Regular (R), generally for mid-high handicap males who drive 230 to 250 yards off the tee;
Senior (A), "A" is used to denote Senior as this flex was originally named Amateur. Typically for those with a slower golf swing speed and whose carry distance is between 200 to 230 yards;
Ladies (L) for those who hit less than 200 yards off the tee.
One of the common beliefs is that the faster you swing, the stiffer the shaft flex you must use to limit the backspin; and lower swing speed golfers will need more backspin and higher launch to get their maximum distance and so they need a softer shaft flex.  This is not always the case. 
It has also been said that a stiffer shaft flex will always get you less distance and more accuracy, and a softer shaft flex will get you more distance and less accuracy.  This is also not the case all the time. 
What's important is to match up the right shaft flex into your golf swing, with the right launch angle and spin rate, so that you get the best of both distance and accuracy.
The various types of shaft flex give a different feel to golfers, typically affect the strike on the face, and also has an effect on speed.
One would then logically deduce that the shaft flex makes a difference to flight performance. 
Interesting, reported variances can be as low as 3 yards of carry distance between any of the shaft flex types used by the male golfers, to about 6 yards of variance between the Regular shaft and Ladies shaft.  The largest reported variance appears to be about 8 yards for any of the shaft flex types used by the male golfers. 
But of course variance in flight performance would differ from golfer to golfer.  The same wand in different hands yields a different outcome as the real magic is a composite sum of parts!  It's really about the art, not just the science, of finding the shaft that fits your release and that fits your club head speed.
While shaft flex makes a difference, there are obviously many other elements to a golf club such as the head and the grip adding up to create the carry distance. 
This is why it's imperative that you get fitted not just on your good swings but as the average to help you hit the best shots you can.
Our Master Fitter has fitted thousands of high handicap golfers around the world, including me :)  On the other hand, he has also fitted the best golfers in the world, such as Phil Mickelson and Vijay Singh!