Dustin Johnson's secret to leading by 18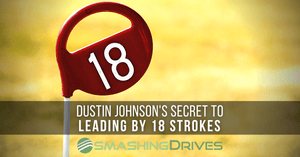 Golf.com credited Dustin Johnson's amazing victory to his driving at TPC Boston.  Find out exactly how he did it.
18 strokes.
What's that you might ask…
In case you missed the Northern Trust last weekend, Dustin Johnson was 18 strokes better than the field from tee-to-green.  
It goes without saying that DJ dominated the field at TPC Boston for the second lowest 72 hole score in PGA Tour history!
And Golf.com credits this amazing feat to his amazing driving this week, and more than that, to his driver, in this case the Taylor Made SIM Max. 
The SIM or Shape In Motion drivers prioritize forgiveness and ball speed using a unique, aerodynamic shape and sole design.  The Twist Face technology at the center of the club, helps player add distance without sacrificing accuracy.
In particular, the SIM Max has been described by Golf.com as a "cheat code" for golfers looking for the look and feel of a SIM but wanting that little bit more help, without sacrificing too much playability.
Check out our articles on the Taylor Made SIM...
It's got an 8% larger face, and is built for forgiveness.  So club golfers like us, can feel confident ripping out the driver, even on tighter fairways.
And when put in the hands of masters like Dustin Johnson, let's just say it makes an 18 stroke difference.
At Smashing Drives, we believe that golfers should always be playing their best game.  And most of the time, that's not down to a specific piece of gear, but having a repeatable swing.
We carry the SIM Max driver, and have a whole bunch of shafts set up for it.
Come down and give it a swing.  Our driving range is open for business as usual, and if you do decide to pick one up, we'll waive our fitting fee.
See you soon!