Graphite Design Demo Shafts: Full range in store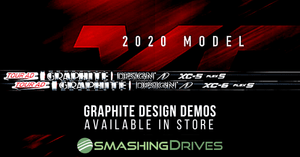 Graphite Design shafts: Premium and award-worthy high performers. You deserve one.
Another week without golf...
Not a heck of a lot we can do, and we're certainly not here to rub salt in the wound (hey it's our wounds too!)
But to keep that dream alive.
We're more than half way there, so hang in there :)
When we're all allowed to again, come by and try out the various Graphite Design shafts we have in stock.
We've got a wide range of demos, so there'll be one that will suit you.
But first, a little about Graphite Design.
They're proudly designed and manufactured at the Graphite Design Japan factory headquarters.
The 2020 Graphite Design Tour AD XC shaft is the latest in the Tour AD line of golf shafts, and designed for "Xtra Carry".
In addition to the Tour AD XC, Smashing Drives also carries the 2019 Graphite Design Tour AD VR designed to "Vanquish all Rivals".
Both the Tour AD XC and Tour AD VR are crafted with premium, high modulus, aerospace quality 50 tonne carbon fibre materials.
The Tour AD XC shaft profile is soft in the butt section, stiff and firm in the centre section, and has a stiff tip to promote Low to Mid launch angle and low spin with the ball.
The Tour AD VR utilises Fast Taper Technology, which incorporates a faster taper rate from the grip to the lower mid-section of the shaft. This results in an overall feel of greater club head control at impact and an increase in club head speed.
The Tour AD VR shaft profile is firm to stiff starting at the handle, medium/firm in the centre section and has a firm tip to promote a Mid to High launch angle and low ball spin rates.
The Tour AD XC is crafted using the brand new TORAYCA® M40X carbon fibre pre-preg in the mid to tip section of the shaft. This strength in transition from mid to tip helps create low/mid launch and low spin characteristics. The selling point for M40X is that it offers both high modulus and high tensile strength, and is 30% stronger than its predecessor.
Graphite Design engineers have been able to use M40X to create a shaft, with regards to the stiffness of the shaft, by using one ply of M40X vs 2-3 ply of the predecessor material – less material in this case means slightly lighter in weight and having a much more efficient way to make your ball show.
Both the Graphite Design Tour AD XC and Tour AD VR comprise TORAYCA® T1100G carbon fibre pre-preg with NANOALLOY® technology in the tip section of the section for additional shaft stability (i.e. stiffness tuning in the shaft) and precise ball control without losing the exceptional feel that Graphite Design shafts are well recognised for.
The T1100G has exceptionally high tensile strength but low-moderate tensile modulus, and is used to strategically stiffen sections of the shaft without adding weight.
Graphite Design shafts also incorporate the company's proprietary Material Stiffness Integration design philosophy and technology. The attention to detail in production is also what makes Graphite Design a top leader in the industry.
At Smashing Drives, you can choose to get fitted with the authentic Graphite Design Tour AD XC to experience the "Xtra Carry" you're looking for to get lesser strokes, or the Graphite Design Tour AD VR to "Vanquish all Rivals" starting right off the tee!
Whichever Graphite Design you're looking for, we've got demos in store.
Looking forward to seeing you when the lockdown is over!