How the Global Supply Chain is affecting your Golf Game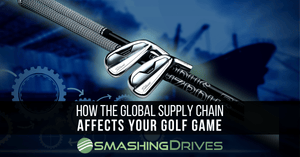 Global supply chains are stretched like they've never been. The golf industry is no exception.  Find out how this will affect your game in the coming months.
The world is opening up!  Thank goodness for that!
Everything is recovering at a break neck pace, and the supply chains around the world are bing stretched to their limits.
Like many other industries, the golf industry is starting to feel the knock on effects on being locked down for so long.
There's a massive spike in demand for new equipment, so much so that we need to put an appointment system in place to prevent getting overwhelmed.
Beyond that, the other reason we need to have an appointment system is that the whole industry is experiencing a shortage of components. 
It's a good thing we started stockpiling components like grips and shafts several months back.
Most fitters and club builders who didn't, are already running low on basics, such as grips, and just can't get shafts, etc.
Even massive suppliers like Golfworks are completely out of stock and back ordered on the Golf Pride Tour Velvet 360, the most commonly used grip in the world.
The largest OEMs in the world, like Titleist and TaylorMade aren't spared either.
Lockdowns in China, and Vietnam have created a supply vacuum, and many orders have been pushed back.
If your order has been affected, we'll contact you to see what you'd like to do with your order.  
If you do decide to cancel your order, do bear in mind that orders are on a first come first served basis, which means your order could get pushed back even further.
Alternatively, if you haven't placed an order now might be a good time to do it.  Let us know what you'd like and we'll tee that up for you.
Thank you for your understanding, and we'll see you soon!
👉 Click here to book your Club Demo, Drop Off, of Small Jobs Appointment
👉 Click here to book your fitting session with All Bonuses (includes 1 hour, $125 fitting fee waived upon purchase of any club, and Free 3 Session 12 month Smashing Fits Guarantee) (This link is to our Whatsapp, we will get back to you within a day.)