How to not get cheated buying clubs online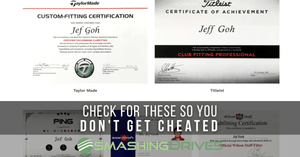 Getting custom brand name clubs online might seem like a good idea, until you get the clubs. Learn how you can protect yourself. 
We've been getting a fair number of "repair" jobs recently that weren't really repair jobs.
In recent months, more and more people have become accustomed to buying online. 
That's a great thing for commerce around the world, not least because it kept businesses alive, and homes stocked with necessities.
That said, these "repairs" we had to do, showed the dark side of e-commerce.
We won't name names in this article, as the number of repairs we did from any given brand do not add up to a significant enough sample size from any of these manufacturers.
Without further ado, let me tell you what these "repairs" were.
They were mainly to "fix" brand new clubs that were custom ordered online.
Brand new, top of the line irons, woods, and even drivers that were ordered with different lengths, different grips, or different grips sizes.
Some of them came in with a swing weight as low as C6, and others with a swing weight as high as D6, when all of them were marketed between D0 and D2.
Our customers have come to expect a certain level of service and competency, so when they got clubs that just "felt wrong", they came down to the shop and had them measured.
While they got the shaft the wanted, fixing the swing weight wasn't just about rebalancing the club. 
For some, rebalancing was a simple job, eg adding weight on the grip end. 
For others, needing to weight the head end meant needing to rebuild the clubs.
And yet, for others, the shafts were not trimmed right, so a shaft replacement and rebuild was necessary.
Honestly, we don't enjoy doing these "repairs".
They are unnecessary, and frankly a waste of everyone's time.  And the ultimate loser is the consumer.
Online sellers of custom clubs need to level up their game, or stop offering these services until they do.
If you do purchase custom clubs online, then do ensure that the person building your clubs is certified by the manufacturer, by checking for certificates.