How to simply Enjoy Golf More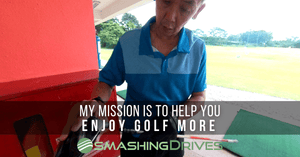 Some lessons we learnt from you that will help us to help you enjoy golf more.
Wow, June was quite a month!
As we were running our Free 15 Minute Fitting campaign, I met up with 5 new customers every day on average, and our team engaged with literally hundreds of other new customers!
Many of you have told us that you've learnt lots from our time together, and we want to say that we really enjoyed meeting up, and learning about your games as well!
What our team learnt, especially from those who connected with us, wanting to improve their golf, but not wanting to arrange a time, was that...
... they were either waiting for their swings to stabilize, or
... they felt their game wasn't good enough to deserve fitting, i.e., that they will be embarrassed to be fitted by a pro who's worked with some of the best golfers in the world.
So, I thought I'd take some time to address these concerns.
First, your swing won't stabilize until you give it a stable platform to work off. 
You want to be able to use the same swing across all your clubs, if you don't, you'll be practicing different swings for each club, and there's no chance that you're swing will stabilize! 
No one can master 13 different swings!  Even Tiger took years to make just 1 swing change – what are the chances you can cope with 13!
=> Book your Free 15 min Fitting Session Now (Limited Appointments)
And if you don't feel like you're "good enough" to deserve to be fitted – let me assure you that once you're fitted, you're going to get "good enough" a lot quicker. 
Dropping a couple of handicap points without being fitted just means you've gotten better a compensating – which not just limits your progress – it's a recipe for injury!
And finally, don't worry about being embarrassed.  We've worked with top pros and club golfers, but also beginners – that's right, beginners get fitted too – and it's without a doubt, the quickest way to improve!
=> Book your Free 15 min Fitting Session Now (Limited Appointments)
We're in the business of helping you get the most enjoyment out of your golf game. 
Most golfers are limited by their equipment not suiting them, and if you're one of those lucky golfers who aren't limited in that area, we'll help you with the minor tweaks to truly unleash your game.
However, if you're equipment isn't the limiting factor, we don't want you to waste time going down that path, and we'll recommend you to a pro to work on your game before we start working with you on your equipment. 
Within those 15 mins, you'll know once and for all if it's you or your equipment that you need to work on.
=> Book your Free 15 min Fitting Session Now (Limited Appointments)
As long as you want to improve your game, we're here to help. 
No need to feel embarrassed or wait for your swing to stabilize – book an appointment, and let us work with you towards more enjoyable golf.
=> Book your Free 15 min Fitting Session Now (Limited Appointments)