Is your Sole your Handicap?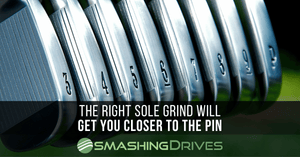 Game improvers see great improvements from having the right sole on their irons. But how about low handicappers and pros? Learn more.
Last week we wrote about how the soles on game improvement clubs are designed to really help you on the range but can wreak havoc on when you're on the course.
In the course of the week, we've helped a number of high handicap players, out of their game improvement clubs or super game improvement clubs, and on to clubs that are a lot thinner soled, and in fact even easier to hit than their game improvers because they're properly fit to their specs.
Not everyone has taken their clubs out on the course, but those who have, have all reported how much better their game has gotten because their irons can be easily hit from all lies!
A high 90s shooter actually broke 90 for the first time – congratulations James!
👉 Try any clubhead with any shaft on our Smashing Fits system - Free 15 min Fitting (Limited Appointments)
The question we've been getting a lot from our lower handicap customers is this – they've heard that top players often grind the soles on their wedges, but can players' clubs be optimized further from a sole perspective?
To answer this, one needs to look no further than the changes Collin Morikawa made to his set earlier this month.
Collin Morikawa, sometimes called the human Iron Byron, had a 6 iron dispersion pattern similar to the tour average wedge dispersion pattern.
Most of the golfing world saw that as something to celebrate, but to Collin, that meant he could improve his short game further.
At the time, Collin was playing P7MCs in his 5 and 6 irons, and P730s in his 7-9 irons.  If you've never seen P730s, these are muscle back blades that are still tour only for now.
The P7MCs are muscle cavity irons, and knowing he hit his 6 iron amazing, TaylorMade decided to try them in his 7-9 irons as well.
To cut a long story short, Collin started hitting his short irons even more amazingly.
According to TaylorMade's tour rep, the P7MC has a lower bounce and less sole relief than the P730s, and that really helped Collin's turf interaction and hence strike contact.
And all of this helped him get the right height and the extra 3-4 yards that he used to need to draw the ball to get.
👉 Try any clubhead with any shaft on our Smashing Fits system - Free 15 min Fitting (Limited Appointments)
As the official custom shop for TaylorMade, Titleist, Mizuno and Srixon, we can assemble your perfect set without restriction to brand.