Mitsubishi Chemical Graphite Shafts @ Smashing Drives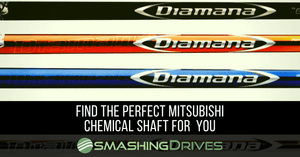 Whether it's hang time, roll, or straightening out those drives, Mitsubishi Chemical has the perfect shaft for you.  Find out more.
We're so glad that life in Singapore is starting to get back to normal. 
We've been open for business for a week, and it's been awesome being out and about again.
These have come in recently, and what can we say?  We love these shafts. 
What really sets Mitsubishi Chemical apart is it leverages its own resources and raw materials to process and formulate the critical raw materials that go into crafting their golf shafts – this includes the monomer, acrylic fibre, carbon fibre, resin and prepreg.
Having their in-house ability to make any composition of resin or fibre and combining them into their own prepreg sets, means that they don't have to work with raw materials available in the industry.
Reinventing the wheel could be hit or miss.  You could end up with a worse wheel or a much better wheel.  
I'm sure in prototyping Mitsubishi Chemical has gone through numerous misses, but anyone who's hit their shafts will agree that their production models are certainly hits!
If you need to feel that for yourself...
Smashing Drives is presently carrying 3 Mitsubishi Chemical graphite shaft brands: (1) Diamana™ (2) Bassara™ and (3) Kuro Kage™.
With that selection, where would you start?
Diamana™ is the shaft brand that started it all for Mitsubishi Chemical. 
It has the enduring trust of the industry's most prominent players and respected club fitters, given that it is a proven performer with its consistency and ability to deliver under pressure.
There are different shaft series in Diamana™. 
The classic version has mid launch with low-mid spin characteristics for a longer hang time with your drives.
If you want to get the ball up higher, there's the high launch mid spin version that's also incredibly popular with for fairway woods and hybrids.
Finally, there's the low mid launch, low spin version for better players who need to keep the ball down.
Bassara™ is the original ultra-premium, ultralight shaft line from Mitsubishi Chemical which sets the benchmark for lightweight shaft innovation.
With the Bassara™, the company has introduced leading edge materials used in new ways which provides this series a lot of stability while shaving off precious grams.
Bassara™ also has highly refined finishes while keeping to incredibly tight tolerances, rigorous quality control and craftsmanship synonoymous with Mitsubishi Chemical.
Being the premium line, the Bassara™ promises the perfect launch angle for your drives, with a penetrating mid-high launch, with mid or mid-low spin depending on your launch characteristics and your preference for hang time or roll.
For something really exotic, the Kuro Kage™ shafts feature two key technologies – Low Resin Content (LRC) Prepreg and Titanium Nickel (TiNi) Wire.
Kuro Kage™ Black with Dual-Core TiNi Technology and Straight Flight Weighting (SFW) yields the same launch profile as its renowned predecessor, but has the Dual-Core TiNi Wire in addition.
Targetted at the serious improving golfer, the SFW system helps to turn the club over easier through impact, and in turn straighten a slight fade or promote a slight draw.
Accordingly, these shafts are categorised as mid-high launch with mid spin to help your drives go long and straight.
There is also the Kuro Kage™ Black Dual-Core TiNi Hybrid series which is the lightest weight hybrid option offered under this brand.
Demos of all these shafts are available in store.
Call or book a consultation by clicking here.  
See you soon!