TaylorMade, Titleist & our values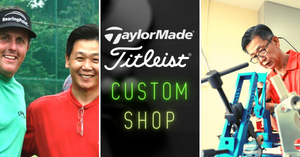 When selecting partners, alignment of values is so important.  That's we're so proud to be the Official Custom Shop for TaylorMade and Titleist.
Whether you're a complete beginner, intermediate or advanced golfer, TaylorMade is a company that just keeps innovating to meet your needs.
That's exactly what makes us so proud to be associated with them.  They started with 1 innovative driver - based completely on science.
There's no hiding from our name that while we'll always love fitting golfers through every aspect of their game, we're all about Smashing Drives.  (And did we mention that we've just launched a brand new driver, based completely on science?)
Back to TaylorMade.  In 1979, TaylorMade was founded to bring a brand new driver technology to golfers.  Pittsburgh Persimmon.
What on earth is Pittsburgh Persimmon?  It was TaylorMade's one an only product, a 12 degree cast stainless steel driver.
As with all new technologies, the metal wood was met with some resistance, since who ever heard of a metal wood.  Wood is wood right?
But in 1981, just 2 years later, Ron Streck brought the Pittsburgh Persimmon to its' first Tour win in Houston, and the rest is history.
In fact, in 2019, under 20 years from the time the metal wood started to gain acceptance, TaylorMade invited some of their top pros, Tiger Woods, Rory McIlroy, Dustin Johnson, Jon Rahm and Jason Day, to hit the Pittsburgh Persimmon. 
These pros were faced with an uphill task.  Not only had none of them used a persimmon wood in competition, only Tiger had used a non-graphite (ie, steel) shaft in his driver, in competition. 
That's how much driver technology has moved in the last 20 years, not to mention all of TaylorMade's visible technology, like shifting head weights etc which has made it into the mainstream!
In fact, when asked to hit the Pittsburgh Persimmon, Jason Day and Tiger were overheard saying. "just think of it as a 3-wood"…
Today, TaylorMade is arguably the most popular brand on tour, and continues to innovate with its, yet to be mainstream, "twist face", and forgiveness that pros, right through to beginners, have come to associate with the brand, and more importantly, rely on.
For the purist, we'll customize your Titleist clubs for you. 
Known for their clean look at set up and workability, Titleist are the pre-dominant player's club, favored by the lower handicap golfers and pros.  
Titleist has game improvement features built into the club, but you can't have both workability and forgiveness, since workability means that the ball isn't supposed to go straight when it's not hit straight, and forgiveness means that the ball IS supposed to go straight whether or not it's hit straight.
And so today, we're so proud to be the Custom Shop for these 2 great brands. 
Not just for their technology, but for the TaylorMade's spirit of innovation, and for Titleist's commitment to its values.
Smashing Drives has launched our Smasher Series Drivers, which for speed match both your shaft and head – after all why hit a regular shaft with a stiff head? 
As with both these great brands, our Smasher Driver seeks to give the best technology, and build quality to help golfers of all abilities, based on over 20 years of fitting weekend golfers to the world's top pros.
The key is that we build it for you and your swing.