The perfect Head & Shaft combination for you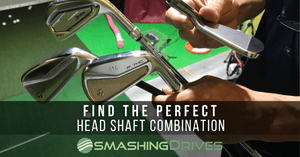 The perfect set of clubs for you will enable you to use the same swing throughout, and have a head and shaft combination that suits you perfectly, regardless of brand.
One of the problems we see many golfers struggle with constantly, is the inability to achieve consistency.
They might be able to strike the ball well one day, and their game completely collapses the next.
Or they might be striking their irons well, and struggle with their fairway woods, and have that completely reversed one month later.
It's exactly the same problem, and can be identified, and possibly even fixed during our 15 min Free Fitting Session.
=> Book your Free 15 min Fitting Session Now (Limited Appointments)
The problem is having to change swings from one club to another.  
"Swing more upright for irons", "swing flatter for your driver", etc
The moment you can have one swing for all your clubs, you'll achieve consistency.
Have you seen any of the top pros change swings?  They might "appear" to be more upright or flatter from wedge through driver, but if you measure those swings in relation to their spine, most top pros have exactly the same swing.
That is the secret to their consistency - being able to use the same swing, over and over again, without compensation, to get repeatable results.
And we can get your equipment set up exactly that way too.
=> Book your Free 15 min Fitting Session Now (Limited Appointments)
Besides having the perfect fit, your equipment needs to "feel" right for you.
And feel is something that you only get through hitting lots of different heads with different shafts.
Until now, that was something that was reserved for the very best players.
We're proud to introduce the Smashing Fits ™ Custom Fitting System, the only system in custom fitting where we can match any head to any shaft.
As a leading independent club fitter, we pride ourselves on putting the golfer first.
We want to make sure you play your best golf game, and that your equipment is what suits you perfectly, regardless of brand.
Through over 20 years of working with the top pros on the PGA Tour, and thousands of amatuer golfers, we've selected the clubs that work the best for golfers of all skill levels.
Imagine if you wanted to try out TaylorMade's P770 with a VA Composites shaft and compare that same head against a KBS Tour, and then switch those same shafts over to a Srixon ZX7 head.
Imagine being able to take all your measurements on an indoor launch monitor, and once you've found the perfect set, taking that to an outdoor full length range to see your ball actually in flight.
Well, you can.  Simply book a Free Fitting appointment, and see your perfect ball flight for yourself.
We're the Custom Shop for Titleist, TaylorMade, Srixon, Krank Golf, Edison Wedges, and Certified Club Fitters for Mizuno, Ping, Wilson Golf and many other brands, and we're certain we'll find a head and shaft combination to fit you and your swing.
=> Book your Free 15 min Fitting Session Now (Limited Appointments)