Titleist custom fitted for no extra cost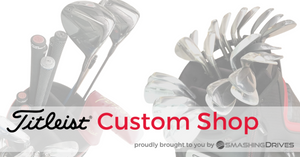 Titleist Custom Shop by Smashing Drives enables you to find your perfect Titleist club and shaft combination, and have that built for no additional cost.  Find out more.
You might have heard that Smashing Drives is an independent Titleist Custom shop.
What does that mean for you and your game?
First, we're here to make sure you get the best Titleist clubs for your game.
Whatever gap you're looking to fill in your bag, or if you're looking to construct a full Titleist bag, we're here to help you ensure that you get the Titleist club that suits you.
You won't be just buying off a review, you'll get to try the clubs for yourself!
=> Book my Titleist Custom Experience for FREE
And the best thing is that you're not hitting into a net or golf simulator - you get to actually hit balls at a driving range where you can actually see your ball flight!
And if, like us, you like to geek out on spin rates and launch angles, we've got our launch monitors conveniently at the driving range so you get the best of both worlds!
Another thing that makes Smashing Drives unique as a Titleist custom fitting centre, is the wide range of shafts that we carry.
=> Book my Titleist Custom Experience for FREE
If you're looking for a shaft beyond the "usual" Titleist range, or just want to find the best shaft for you regardless of whether it's a "standard" in the range, you'll be able to try that shaft on your chosen Titleist club, right at our full length driving range.
Being an independent Titleist custom fitting centre means that you not only get the best shaft for you, you get the best club combination for you, since we're also a TaylorMade custom fitting centre, and certified fitters for a wide range of other brands from Mizuno to Ping.
With all that variety, you really need a professional to talk you through the options so that you know you're getting the best fit for your game.
=> Book my Titleist Custom Experience for FREE
When you book your appointment with us, you'll be fitted by a certified professional fitter and builder, who's worked on the clubs of some of the top names in golf, including former World Number 2 and 3 players, Phil Mickelson and Vijay Singh, and fitted tens of thousands of golfers of all abilities over the last 20 years.
Getting your Titleist clubs from us means that you get the best Titleist clubs for you. It also means that they'll stay the best Titleist clubs for you. Once you get properly custom fitted, your swing will start to become more natural, and that could mean adjustments to your clubs might be needed.
=> Book my Titleist Custom Experience for FREE
That's why we've included 3 Free Followup Sessions after your Titleist Custom Fitting Session, 1 month, 6 months, and 1 year after you start playing with your new Titleist clubs.
Your clubs will be adjusted on the spot (subject to availability), so that you leave the follow up sessions with Titleist clubs that remain the best for you.
We've said alot, but nothing beats experiencing this for yourself.
=> Book my Titleist Custom Experience for FREE