Ultra Rare Titleist Irons In Singapore Custom Shop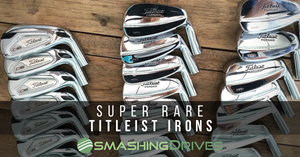 We were recently sent 3 sets of extremely rare Titleist irons, including the Forged 680 Muscle Back 15th Anniversary, and the C16 Concept Irons.  Find out what this was all about.
It never rains, it pours, right?
Part of the benefit of being Titleist's Custom Shop, is that we've got 3 sets of really rare Titleist irons in store for customisation.

These clubs are so rare, they're not even linked from the menus in the Titleist website, but they do have web pages dedicated to them, and we've linked these pages in this article.
First, the Forged 680 Muscle Back 15th Anniversary Irons.  
The original Forged 680 irons were first released in 2003.  Only 2,000 sets were produced.  These were, and continue to be regarded as one of the most successful irons on tour ever. 
Players include Adam Scott, Webb Simpson, Scott Piercy, and quite a few others. 
In 2018, on their 15th Anniversary, a final-run of these iconic irons were forged for a select group of Titleist Tour players. 400 sets were released to the public and were sold out within minutes on April 5, 2018.
For those who want a little more forgiveness, there's the Titleist C16 Concept Irons. 
These are touted to be Titleist's highest launching, longest, and most forgiving players irons. 
Again, they're a limited run, and they don't come cheap - $375 per club for the steel shafts, and $415 per club for the graphite shafted model.
And even with clubs this expensive, there's room to make them more suited to you and your playing style.
That's why they're here.  And that's why club fitting has become such a big thing recently - and there's so many unqualified fitters and builders out there.  
If you've had your clubs worked on, check if your clubs are safe for play following these simple steps.