What modern Iron Technology can do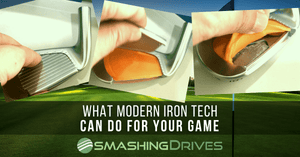 We tend to think of irons as clubs that improve the least with technology.  But a modern iron, can look like a player's iron, with some serious help built in.
We're finally getting into another level of easing of COVID restrictions here in Singapore.
Phase 3 is nearly here, and there'll be more slots open on golf courses, and easing of time restrictions on driving ranges.
If you've been getting rusty, it's time to get your iron game in order.
My personal favourite irons at this stage are the TaylorMade P790s. 
The really look the part, and they play awesome, and importantly, forgiving too.
My view, as a golf equipment professional, is that they represent the biggest leap forward in iron technology since the cavity back irons.
If you've never looked inside one, I've put some picture up above.
As I lift the face off, you can see the orange "speed foam" that's really light, and so allows the weight to be distributed further out for more forgiveness.
The face is forged, and up against the speed foam, makes for really soft hitting, and would you believe, this is a high COR iron which maximises both distance and forgiveness.
And lastly, you can see the tungsten weight at the bottom, for a lower more stable CG and a higher launch.
Now all of this, would be wasted if it looked like a huge cavity back, game improvement club right?
I mean, we've got egos!
And that's what I like best about these.  They look like players' irons.
Speaking of which, we've had lots of customers waiting for our arrangement with Titleist to happen, and I'm glad to say that it has!
The Titleist fitting cart is in, so if you're a Titleist fan, we're fully equipped to get you fitted out.
See you soon!