Your Driver's Flex Is Destroying Your Game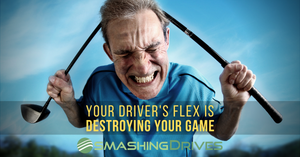 The golf industry has trained us to guess everything, from model to flex of our clubs.  The worrying thing is that most golfers like it.  Learn more.
We've gotten a lot of questions on whether our drivers are available in various flexes.
The short answer is, "yes" they do… BUT we don't sell them that way.
It might be easier to just sell drivers based on what people think they want, but we'd rather sell drivers that we know will work the best for you, our customer.
So how do we figure out what will work best for you?
First, you'll need to take a short questionnaire where we understand you as a golfer, where your misses are, and what sort of courses you typically play.
We speed match both the head and shaft to your swing, taking into account everything you said in the questionnaire.
As a starting point, it might be a mid swing speed head, with a mid swing speed shaft that might typically be called a Regular flex.
There's lots of other things to consider.  In over 20 years of club fitting everyone from top pros to weekend warriors, we've never come across 2 people with the same swing.
So, there's no 2 people that will fit the same R flex exactly.  And to make things worse, every manufacturer has a different definition of what their R flex is.
Even within R flexes, there are different stiffness measurements (CPM), different torque measurements, different kick points…
Add to that, the speed matching of the heads, your requirements as a golfer, whether you prefer more roll or more hang time…
You get the picture.
The point here is that the golf industry has trained golfers to be guessers.
We're trained to guess which model of club we need, guess our flex, etc.
We do this by trusting magazine reviews, ratings, what others say.  But no 2 golfers have the same swing.  And when the club we buy doesn't quite live up to what the reviews said, we think it's us.  We buy more magazines, read more reviews, and buy another club.
Who benefits?  Magazines, reviewers, and club manufacturers.
Stop guessing what club you should be playing.  Let us build a driver that works best for you.